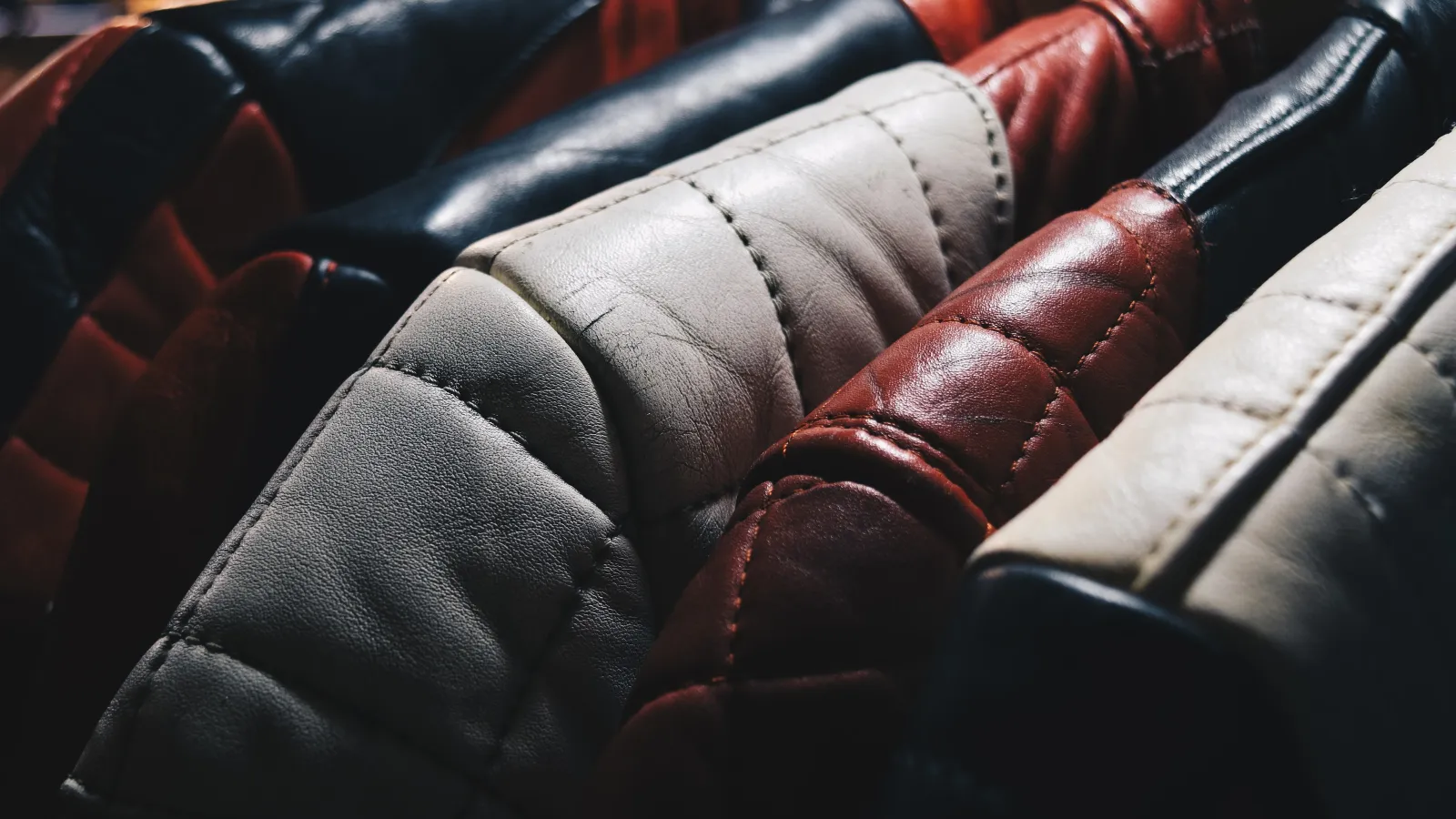 Martinizing
Leather & Suede Cleaning
The Leather & Suede
Professionals
By utilizing Martinizing's Leather and Suede service, you can trust that your valuable leather and suede items will be treated with the utmost care and attention. The professionals at Martinizing understand the delicate nature of these fabrics and employ the appropriate cleaning techniques to ensure their longevity and beauty.
Please keep in mind that specific pricing and availability may vary depending on the location, so it's advisable to contact your nearest Martinizing for more detailed information about their Leather and Suede service, including any specific requirements or recommendations they may have for these items.

Make Your Life Easier With Martinizing
Professional Garment Cleaning Services
5703
Hours given back to families
The Right Choice For
Your Professional Cleaner
I've used Martinizing Cleaners for more years than I can remember with excellent, timely service. I haven't been to a physical dry cleaners location in years, but last I checked, the price was similar and I don't have to leave my house.

Kristine C.
I cannot thank Bill and his partner for getting my ASU (military dress blues) dry cleaned all in time for my soldier's funeral. I was calling all the dry cleaners in the area, last minute during Memorial Day weekend… hoping I would get somebody to help me out. The funeral honors did a terrific job and I am forever in debt for being able to wear a clean and crisp uniform while presenting the soldier's mother with the U.S. flag. Thank you again for taking my last minute request!! You guys are truly the best.

Sungji Gloria K.
Each week I have my shirts/blouses washed and starched. Your service is excellent and I am very satisfied. Mr. Robert is always very nice and friendly when picking up and dropping off the dry cleaning. Thank you again for such a great service and for providing door to door service.

Brenda S.
So easy and convenient! The communication is great and service quality is excellent. They are reliable, affordable, and always on time. It's a service you don't realize you need until you have it.

Catherine N.
They continue to provide high quality consistent service picked up and delivered to my work address. LOVE them!!

David
The owners of this business are very conscientious and really know how to take care of their customers. The first time for me, they actually came to my condo, picked up my Rush item and brought it back to me later that same day! They are careful with our clothes and prompt with their

Deborah F.
Martinizing did a fantastic job with my old suede jacket. It looks like new! I was ready to throw it away because it was worn in spots as well as dirty. They worked magic with it! And they are so friendly as well. I am definitely impressed with the customer service. I would certainly recommend

Bowman M.
My daughter had her dress altered and cleaned here. Not only did they do a fabulous job with her dress, but remembered her and asked about her when I dropped the dress off again to be cleaned. So nice to have that personal and caring touch that they give!!! I highly recommend this place!

Michelle P.
Very organized, efficient and cost effective. My alterations and cleaning came out beautifully. Great hours for my schedule as well.

Krista R.
Perfect service, friendly staff. They had my laundry washed and folded exactly when they said it would be finished. 10 out of 10 would use again.

Jeremiah A.
Took my father in law's suit here to be dry cleaned for my fiancé to wear at our wedding. They made it look so much better. Thank you!!

Ashley K.
I've been patronizing them for about 20 years and they're great! Love the messages to remind me to pick up my clothes!
Kathryn M.
I've used Martinizing on Stadium for a few years now and they never disappoint. I'm always satisfied with the customer service and overall outcome of the items I've taken to them. Thanks Martinizing! Special shout-out to Travis! Y'all rock!

Kate H.
Martinizing is so good! They have staff who are fully invested in what they do, and strive to do it well. The pick up and delivery service is perfect - delivery folks are awesome, everything is right and it functions like clockwork.

Barbara T.
Wow, Great Service. They Dry Clean my clothes and making them look new. I've never had a bad experience. Been going there for over 20 yrs.

Johnny S.
Have been coming here for years. Owners are so friendly. Always do a great job on our dry cleaning.

Maria V.
I've used them since my 20's and I'm 46 now. Impeccable service, I've never had one bad issue with them. I consider them a bit like family, as we have watched each other live, love and age gracefully.

Te'Aira T.
I took a chef's and full apron that I made in to be pressed and water proofed. They came back looking amazing. The scotchgarding didn't alter the texture of the fabric at all.

Cindy C.
Their timeline was on point. We had a funeral on Sat. We dropped 4 3 piece suits off on the previous Saturday, they stated the suits would be ready by Thursday 2pm. They did a fantastic job & they were ready on time.

Vernonica C.
They got the stain out of my "Mother-of-the-Groom" dress, just in time for the wedding! Awesome workers and great customer service! Will definitely be returning back when needed!

Addy R.
We drive across town for this place. Great spot to take your items for alterations. Highly recommend. Besa and her team did such a great job, my wife loved her present. Can't thank you enough.

Pavel P.
Very personable staff that understood my needs, and were able to deliver my suit back in a timely manner as needed for a trip. This was my first time using them, but I will be back. Compared to my last cleaners, I found their price is extremely competitive. And the excellent service is just icing on the cake!

Mike S.
Love getting getting my clothes clean.

Donald X.
Use them every week, wouldn't go anywhere else. Staff are friendly, courteous, know me by name… wouldn't go anywhere else. Have never had any issues with timing, no issues with cleaning, every piece cleaned perfectly, every time. Any repairs or alterations were done perfectly too.

Yehuda S.
Exceptional dry cleaning. I have a lot of high end clothes with delicate, sensitive fabrics and they are consistently treated with care here. Customer service is also unparalleled. Highly recommended.

Harold W.
This is a very efficient place of business. I had a formal wedding dress with lace and details and 2 other garments with sparkly stones. They had all done wrapped in plastic for pickup in 3 days.

Judy W.
Staff is very courtesy & helpful. I'm handicap & use the drive thru service. Very convenient. Dry cleaning is always on point. Haven't had any issues, but I have faith that they would be able to correct it.

Pedro A.
This Knob Hill Martinizing dry cleaner is the best dry cleaner I have visited. Nevertheless, the price is not high and very reasonable. The owner's knowledge of laundry is very good and the attitude of responding to guests is very friendly. Anyone who has visited once will appreciate this dry cleaner.

Brian C.
I have been using them for over ten years, and they are always wonderful and do everything on site. Always friendly, and I have never had any issues. Honestly, I don't think there is a better dry cleaner in Calgary.

Andrew I.
We needed a suit jacket dry cleaned the same day. I called at 8:00 am and dropped off the jacket at 8:30 am. They had the jacket ready for us to pick up by 4:00 pm. The jacket came out beautifully. Thank you so much for rushing for us

Jolene M.
The dresses were cleaned and pressed for my mother. She was extremely happy with everything. And yes we will be using Martinizing again. Brittney and the young man that waited on us were extremely polite and helpful

Rebecca R.
Martinizing Cleaning is amazing. They pick up and deliver all of my items that need cleaned and altered. I always have my items back quickly and in perfect condition. I have a lot of items altered and it has never been an easier process.

Kimberly L.
I have never had a bad experience at this business. The staff are always so friendly and helpful. Had a shirt repaired a couple months ago, almost couldn't tell there had been an issue. Always happy with their services!

Annie B.
Wonderful experience. Everyone was so nice. I live in Riverton and my fiancé and I needed our wedding attire steamed and they made it so easy for us to make a trip there and pick up on Saturdays!! Clothes came out absolutely pristine!

Kylie S.
Martiniizng was quick, efficient, and reasonably priced. Their staff is pleasant and helpful and I will continue to use them for my dry cleaning and pressing.

Steve C.
Quick, easy & efficient. I dropped off a rental dress and they delivered it when it was complete. Great experience

Amanda W.
I have been having my dry cleaning done at this location for at least 20 years. It has always been an excellent experience! The staff are so friendly!!! Thank you!!!

Christian W.
Top notch cleaners. They give great customer service and they have been able to remove several stubborn stains from my clothing.

Carrie A.
Always do a great job and fast service!

Courtney W.
Lee and his staff have done a great job for us over the years. We have enjoyed their work and the relationship. Whenever we have had a concern it was always addressed immediately and to our satisfaction. We would recommend them for any dry cleaning needs!

Gina G.
Awesome place! Was able to get my wife's wedding dressed preserved in one day, last minute notice! Very thankful and highly recommend!

Chris A.
Great alteration services! Resized 5 pants and trousers, and they all fit perfectly! Thank you!

Naz T.
My daughter needed her jeans hemmed before she left for a trip and the seamstress was able to get it done for her quickly and perfectly. Staff are friendly too!

Reginia L.
Excellent service! They went out of their way to ensure I'd have my clothing back long before necessary, and it came back looking better than when it was new. You're in good hands with these guys.

Patrick C.
Fantastic company. Very friendly. Fast turn around time. Great prices. I will definitely be going back to them for more dry cleaning needs.

David F.
We've been using Lovers Lane Martinizing for many, many years. Three generations of my family use them now and we would never go anywhere else. They do an excellent job and ALWAYS treat us like family.

Christy E.
Sadly a last minute bereavement , Pressed and out the door in 10 minutes, 10 minutes to close. Lovers Lane associates were a wonderful example.

Robert K.
Great! The staff is very friendly and the prices (especially the Wednesday special) are very reasonable.

Jacob M.
Prices are wonderful and my clothing was beautiful

Myra L.
Love, absolutely loved how I was treated through every step of service. I was having a bad day spilled coffee all over my winter coat and had brought a cheap scarf that left lent all over my coat. My Michael Kors coat has been restored!

Johnio P.
I love this location the service is outstanding. I've used other cleaners before, however I've never received the great service I get consistently from this location. Brinda continues to make my experience there exceptional with her wonderful God fearing personality and dedication. Keep up the great work.

Vanessa W.
The best dry cleaners in Danville. A plus customer service. They take care of their customers.

Bernard B.
There are some very sweet ladies that work here. Great customer service and southern charm from all of them!

Denise A.
I go to the location on Evans and they are amazing. I stop in every 2-3 weeks and they always do a great job. Jessica is the absolute best, she knows me and treats me so well every visit. She's friendly and always makes me smile and it just feels great to be known when I walk in!. Great with our clothes and great customer service.

Carolyn A.
simply amazing. The guy went above and beyond!!! On Saturday afternoon after closing, drove to the factory warehouse and got my clothes so that I would have them for an upcoming business trip that is customer service at its finest. They will always have my loyalty.

Sean D.
Brought a wool coat in for a stain removal and it was missed the first time, but I brought it back and they immediately corrected it. Appreciate the great customer service!

Keri B.
The team here is excellent! We use the delivery service regularly and our items always look great. We recently had a very big occasion and they went out of their way to make sure everything was taken care of in time! We appreciate them so much!

Jennifer T.
The beauty of this business is that it does excellent work cleaning and caring for your clothes but also picks up and delivers to your home. I have never had a Professional Cleaning service do that.

Bill K.
Fast, reliable, and flexible. Highly recommend this place. I've taken suits, sweaters, pants, and comforters here. I've never had a problem and if I needed a rush order they've made sure to do it fast.

Chris
Omg, great service and fast. Dropped of my suit jacket at 4 pm picked it up at noon the next day. Quickest turn around in the area, great quality work, and wonderful customer service. They will have all of my business forever or at least til I move.

Mark G.
My chairs are 15 years old. I took the cushion covers to Martinizing Cleaning and they came back looking brand new. I highly recommend this dry cleaner.

Nan H.
Superior service! Always caring and professional staff. My only go to for dry cleaning and alterations!

Gina V.
I have been bringing my clothes here for YEARS. The staff has always been so friendly and helpful with everything I've needed done. I come here for all my alterations and dry cleaning. Keep up the good work!

Selena
They're great I bring my after hour clothes to them and they fluff and fold them perfectly

Robert M.
Stayed in the area for a few weeks, needed dry cleaning & saw they had great reviews, so I gave them a try & was not disappointed! They were fast, friendly, reasonably priced & have many great options for dropping off/picking up your clothes. I wish they were in my town because I would switch to them in a heartbeat!!

Kassy B.
The team at the Cityview location is wonderful! They did a great job cleaning my suede jacket. It also needed the lining undone so I could do some repairs and when they put it back together it looked like new. Great folks. Great work. I highly recommend them!!

Michele J.
Thank you for taking the time to do a special treatment on my jacket. The owner Eric called me personally to explain the process and all of the outcomes that may happen. I really appreciate Eric and the staff for providing good customer service.

Angela B.
The staff is friendly and efficient. They collected my blue bag and have everything ready the very next day in perfect condition. I love the convenience of the drive-through and the tag with my name on it it feels very secure.

Mary Ellen B.
Looking for a next day service for pressing clothes. I came across this dry cleaning company. So I tried them and they were amazing delivering as promised. I must say they have earned a new and loyal customer!

JoEllen T.
Fast, friendly professional service with no surprises. Reasonable pricing. First time using, but will do so again.

Kevin S.
Tried this dry cleaners because of their higher rating. I was not disappointed. They did a beautiful job on some expensive silk blouses I've had for years. Excellent. And the customer service was exceptional, so friendly. I'm willing to drive a distance to go there and found the prices reasonable.

Alex
Lee has always treat me right and done a great job I'd highly recommend their business they have a great service at affordable prices

EJ D.
I brought them a 50-year-old crocheted wedding dress with several bad stains. I didn't expect miracles but that's what I got. Miracles. The stains are gone and the dress is brighter and refreshed and good as new. Remarkable!

Sharon S.
Great dry cleaning business in highland park, the employee that took care of me is phenomenal, very hospitable. Always is on point with professionalism, correctness and swiftness. Super Nice!!!!

Gregory M.
They are always so friendly, and quick when checking you in and out. They do a great job with the actual services, and if you need an overnight they don't charge you an arm and a leg. Same with their comforter services, very reasonable. Nothing negative to say about this lovely business and their employees.

Jill S.
I've been coming here since moving to the neighborhood a few years ago and always appreciate how fast and courteous they are. I was on a time crunch today and was grateful to just provide my phone number and give the kind lady my shirt immediately. I only wish I discovered this place sooner!

Mike C.
This place is really professional, organized friendly, and clothing always come out on time and very clean. Would definitely be coming back and leaving my clothing here again. If you are in the are looking for a good dry cleaning place would definitely Recommend this one.

Stephanie G.
I hadn't been there in a couple of years because I usually don't have stuff to dry clean I was surprised they still had my name in their computer. Excellent job. Fast on finishing. Will use them again

Lee W.
First time dropping a suit to a dry cleaners. And my experience with Martinizing Cleaning was GREAT! Will definitely be coming back here for all my dry cleaning needs and will be recommending to family and friends! Keep up the amazing work guys!

Jordan R.
Used Martinizing cleaners for the first time this past week. Took in quite a few pieces of my wife's office clothes. Service was fast and friendly and they did a great job with the cleaning. I'll use them again.

Pete
Absolutely the best dry cleaning experience I have ever encountered! Pleasant, efficient and beautiful job!

Marianne R.
We have been using Martinizing Cleaning for years!!! We love them. Convenient pick up and delivery to our home here in hudson.

Hoey H.
Great turn around! I dropped off my daughter's prom dress on a Thursday and it was ready at noon the next day. It looked great, stains were gone and it was ironed carefully so as not to cause iron marks or sheening.

Michele D.
I recently used this business for our dry cleaning and could not be more pleased with the service! I absolutely love the delivery availability and the pricing is great. What a wonderful team! I can't say enough good things about them. We will definitely continue to use them for any services we need!

Jennifer H.
I love going to the cleaners they are very friendly do a great job on your closing and personal items. I will give them a 10 out of 10 if that was an option however, I'll give them a five star. If you are in the Huntsville area, please go by and check them out. You will not be disappointed.

Mike S.
Jamie always provides tremendous help and customer service when using Martinizing Cleaners on Pratt. One specific day she went over and above by helping provide assistance with a unique seam on my daughter's blanket (it made my daughter's day). The entire team always has a positive attitude and does their work with a smile. Thank you & see you soon!

Brian E.
Hate ironing! Especially that shirt with the pearl decor! They did very well with no damage! They are convenient, friendly, and expert. Considering using more frequently and throwing out my iron!

Jennifer M.
Dry cleaning was done. Customer service was cool to talk to and laugh with. Outfit was dry cleaned, pressed & everything came out perfectly! Will definitely do business with them again!!

Martin P.
Wonderful Wonderful people and place!! Super nice and helpful. Was in a dilemma with a bridesmaid dress, a stain and out of time. Dave and Cindy took care of it and with time to spare!! Will be back for dry cleaning needs. Thank you SO much!!

B.H.
Wish I could give this place 6 stars. AMAZING quality, extremely fast, super friendly and very accommodating. I've used a few different dry cleaners around Jax and I can honestly say this is the best dry cleaner by far! For all my navy guys, THIS IS THE PLACE. Only place I'm taking my uniforms from now

Patrick H.
I love that they have a drive through. It makes dropping off and picking up stuff very convenient! 've had them dry clean 2 suits. Both were done before 2 business days.

Jessica M.
They were fast and friendly and followed my instructions. I would highly recommend them. It was a wedding dress and they removed the stains and it looks amazing

Jenni M.
I loved the service.. the staff was so helpful on meeting the needs of every customer..thank you

Adam Z.
House was in a Fire they Brung my baby NORTHFACE coat back to life 🙏 Only place i recommend. Just dropped sneakers and jogging suits off cant wait to see The outcome . thank guys Best Cleaners Around.

Courtney R.
We were customers when we lived in Mequon, WI and absolutely loved your operation. We moved to Ohio back in September and have yet to find a decent dry cleaner. We really appreciate the service you've provided and wish there was a dry cleaning service half as good as yours in Cincinnati.
Thank you and continue being great...you're making everyone else look bad!

Patrick M.
Staff was friendly and quick to greet customers, made the drop off and pick up run smoothly. Martinizing did a beautiful job dry cleaning a delicate dress I had dropped off, and turn around time was great too. Thank you!!

Katie S.
I love Parkcenter Martinizing. The cleaning is efficient and timely. It is the service that makes a difference. The friendly reminder calls, knowing my name and best of all, the kindness.

Kathleen C.
Great service, excellent job done on our quilt. I recommend Martinizing dry cleaners on Parkcenter in Boise. You will be pleased with their service

MaryFrances V.
They do an excellent job and were able to get my kiddos clothes cleaned and pressed in time for pictures. They work hard and I love the friendliness.

Melayna G.
The girl who waited on me at Martinizing was awesome! Very good personality! My suit looks great. Thank you Martinizing Dry Cleaning! Another satisfied customer.

Tim C.
Had a Great Experience with Martinizing Dry Cleaning!! They were thorough cleaning my suit, shirts and ties. Will be back in the future to have my garments cleaned. Thanks : )

Tim S.
The two ladies I met when dropping off and picking up. Were very helpful. I dropped off my husband's shirts and they were able to get them looking like new.

Jennifer S.
I dropped off a jacket that I needed right away. They were able to get the jacket pressed the same day. The attendant was courteous and efficient. Great experience.

Sue S.
Excellent Experience Overall! Alterations and Dry Cleaning (a few stains removed as well) were done exceptionally!! Thank you for the great service!!!

Edward F.
I have had a very good experience with the service provided. They have not disappointed me where other dry cleaners have FAILED. I highly recommend Martinizing

Lynn M.
Been using the store for shirts and pants for many years. Excellent service every time.

Joel B.
A great dry cleaner. AND they will shine shoes as well! Very friendly staff and well organized operation. I use them regularly and can't recommend them highly enough.

Joseph P.
Wow! The people here were incredibly nice and friendly, and they really took care of me. I asked super nicely, and they were able to press 4 garments right away instead of having to come back later in the afternoon. They tried to refuse a tip, but I tipped anyway. My suit, shirt, and pants look great!

Jeff M.
Dry cleaning - returned perfect and on time. They contacted me when item was ready for pick up.

Christine S.
Services To
Make Your Life Easier