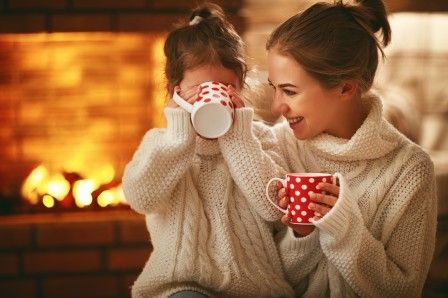 Colder months are rolling in and summer stains are being replaced with the stains of winter. As temperatures drop it is time to prepare yourself for some of the festivities of the colder months. Here are a few tips and considerations to think about when rolling with the seasons.

Cleaning Out the Closet
After a long slumber, your fall and winter clothes will need to be awakened and taken out of storage. Depending on how careful and attentive you were last spring when packing them away, you may have had some unwanted visitors over the summer months and will want to check your garments for signs of insect damage.

Insects such as crickets, ants, moths, beetles, and cockroaches tend to feed on clothes that were not cleaned properly before storing. Look for small holes, worn areas, and discolored lines on the portions of the garment that had spills or stains that were never removed.

The odor from moth balls or crystals is difficult to remove. Try airing the garments by hanging them outside in the shade. If this does not completely remove the odor, cleaning the garments may help.

Winter Wardrobe
The content of your wardrobe changes along with the seasons. Short skirts and short sleeve shirts will be replaced with winter coats and scarves. Following some of these cleaning tips may be useful.

When it comes to cleaning, the first and easiest step to take to ensure the best cleaning is to follow the manufacturer's care label instructions. Many of your garments may be hand or machine washable. Minimize agitation to prevent matting and pilling of napped fabrics. Cleaners have pressing equipment that can reshape knits back to their original size. Follow recommended drying temperatures. Other materials such as wool, fur, and leather will require the assistance of a professional cleaner due to special cleaning and pressing procedures. Make sure to point out any known stains when you leave them with the cleaner.

Holiday Care Tips & Removing Holiday Stains
Holiday dinners, office parties, and celebrations make December a festive month. Amid such revelry, stains from food and drinks inevitably will end up on people's clothes and holiday table clothes.

Wine, tea, coffee, soft drinks, eggnog, apple cider, cranberry sauce, and gravy stains are some of the common culprits of holiday stains. Stains should be treated as soon as possible to avoid having them set.

If the garment is drycleanable it should be handled professionally. Drycleaners are experts in stain removal, but there are things you can do at home as well. The following are tips on how to remove stains from washable items. You should always test for colorfastness before attempting any type of stain removal treatment. If the stain remains, consult your local drycleaner. Be sure to inform him or her of everything you did when you treated the stain.

Wine, Tea, Coffee, Soda, Cranberry Sauce, and Apple Cider
First, rinse the stain with cold water. Next, blot it with mild dishwashing liquid or a mild detergent and rinse. If the stain is still present, blot it with white vinegar. Rinse thoroughly. If none of these procedures work, you may need to use 3 percent hydrogen peroxide, which is available at any grocery or drug store.

Before using, test in an unexposed area such as a seam or shoulder pad to make sure the treatment is safe for the fabric and color.

Eggnog and Gravy
First, blot the stain with cold water and a mild detergent. Rinse. If the stain remains, take a small amount of powder detergent and mix with about one ounce of regular household ammonia (the nonsudsing type) to form a paste and apply to the stained area. Let stand for five to 10 minutes, then launder as usual. This procedure should not be used on silk or wool garments. For silk or wool, use a mild detergent and rinse thoroughly. Remember to test for colorfastness prior to treatment.

Next time you change over from summer to fall, think about these tips and considerations so you can spend the winter months getting the most out of your winter wardrobe.