What happens to your clothes when you bring them to us?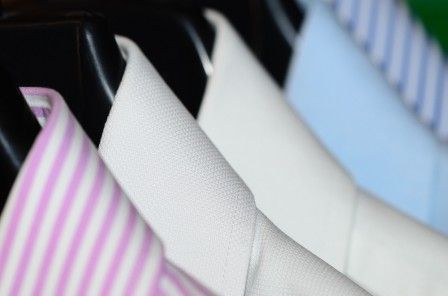 Who handles them and how do they make them look renewed and refreshed? Your clothes are in the best care when they're with us! Our professional garment handlers are trained to remove stains, solve problems, press out wrinkles, and make your clothes look the best they can.
The process starts at the counter when you drop off your cleaning. This is the best time to let us know about any stains that may require extra attention, or to identify any other potential problems. That way we can be sure our garment experts will be able to give your clothes any extra care needed.
We identify your garments with a tag system, then sort them by type, fabric content, color, and cleaning method. Some garments may need to be laundered, hand washed, or wetcleaned. Other speciality items such as leathers or furs require special care. Some garments may require some stain removal efforts before we clean them, and others may not. It all depends on each individual piece.
Drycleaning cleans clothing without the use of water, it's true, but liquids are involved. Drycleaning solvent is the primary cleaning force in the process, using a fluid that cuts through grease and oily stains but does not harm most fabrics. Special drycleaning detergents are added by a controlled system. Precision is of the essence to ensure properly cleaned clothing.
Wetcleaning resembles the home washing process because it uses water as the main cleaning agent, but that's where the similarities end. Wetcleaning uses highly specialized equipment and detergents to clean clothing, giving them a renewed and refreshed appearance.
After cleaning we check your clothes for any remaining stains that may not have come out in the regular cleaning process. This is called spotting or stain removal. Any lingering stains are removed as best as possible using the appropriate products. These items are then re-cleaned before we give them back to you.
Dressed to Im-Press
Near the end of the production line you'll find the pressing station. This is where your clothes are pressed and made ready to wear. Pressing is a job that requires an eye for detail, and it's these details that help you look good when you're wearing your professionally-cleaned clothes to an important function or for work or play.
Following the pressing process, all of your garments are brought back together and placed in the inspection lineup. This is where we catch things like missing buttons, stains that may need extra work, and any undesired impressions from pressing equipment. Any item that does not pass this quality control inspection is sent back for additional care before being assembled with the rest of your order and bagged.
That's the process in a nutshell. Thanks for taking the tour! If you have any questions about the clothing care process, feel free to ask a customer service representative or a manager. We love what we do and we're only too happy to talk about it. Looking forward to seeing you again soon.
VISIT OR CALL YOUR LOCAL MARTINIZING TO LEARN MORE ABOUT OUR SERVICES.